Baška voda
Baška Voda is a municipality located on the coastline of Dalmatia. It is a famous tourist resort on the Makarska Riviera. This charming Mediterranean city, situated under the majestic mountain Biokovo has so much to offer. It was a settlement of fisherman, salesman, and seaman, that became a lively, modern tourist resort with 5 – star service.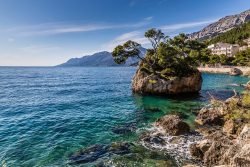 When in Baška Voda make sure to visit the Malacological Museum, where you can admire an enormous collection of shells from the Adriatic and world's oceans and seas. There is also a small but very rich archeological museum with its amazing collection of ancient coins, tools, weaponry, amphoras and much more. There are several churches and chapels you can visit, such as The Church od Assumption (1636), Church of All Saints (from 1999), St. Rocco Chapel (XV century), St. Lawrence Chapel (1750) and St. Nikola statue, the patron saint of travelers and sailors. Near the city, there is one of the richest archaeological sites in the region, dating back to the Roman times and includes burial sites with urns, lamps, jewelry, coins with the head of Alexander Severus Aurelianus and headstones bearing the names of 13 of the ancient inhabitants of Baška Voda. The loveliest of which commemorates a boy called Ursinus, who died in a shipwreck between 100 and 150 AD. The Biokovo Mountain is the second-highest mountain range in Croatia, with its two peaks St Elias (1640 m) and Šibenik (1450 m) right above Baška Voda. Serving as a wall between the cool inner-land and the warm seaside, it offers a spectacular landscape, a real paradise for hiking lovers with its numerous marked walking trails. In 1981 Biokovo was declared a Nature Park, including one of the most beautiful Botanical gardens in Dalmatia.
During the summer there are numerous events organized in Baška Voda, like fisherman's night, evenings of
Dalmatian songs (Klapa concerts), concerts and exhibitions. There are numerous bars and restaurants where you can enjoy some traditional Dalmatian cuisine. Baška Voda is also a great place for sports lovers, as there are various activities one can do. From diving and snorkeling in crystal blue sea, windsurfing and kitesurfing thanks to perfect wind conditions, hiking, climbing and trekking on mountain Biokovo and other sports like volleyball, soccer, handball, basketball, etc.
Nearby destinations you should visit if in Baška Voda are Split, Makarska, Cetina Canyon, the island of Brač, island of Hvar and Dubrovnik.