10 day trips from Split
Split is situated in the center of the southern Croatian region of Dalmatia and it's the second-largest city in Croatia and the third-largest passenger port of the Mediterranean. The city of Split was an underrated tourist destination for many years as being seen just as an important passenger hub and a gateway to central-Dalmatian islands. But in the last decade, it became one of the most visited destinations in Croatia, each year reporting a record-breaking holiday season. Split was founded more than 1700 years ago by the Roman Emperor Diocletian and his imperial palace occupies the most important part of the old town. With the beachfront and palm trees right in front of the palace, Split offers the perfect Mediterranean postcard. During its long history, many cultures left their footprint still visible today on the squares and the alleys of the city center.
The city of Split is very close to many spectacular places one should visit when in Croatia like the islands of Brač and Hvar, Krka National Park, Omiš, Dubrovnik, the island of Korčula and many other, so day trips to some of these destinations is a must do. Split is well connected with all inhabited central and south Dalmatian islands with several daily ferries and fast boat lines. But there are also numerous travel agencies that you can easily find in the center of the old city if you prefer an organized day trip. So here are the best places for a day trip from Split.
Bol, Island of Brač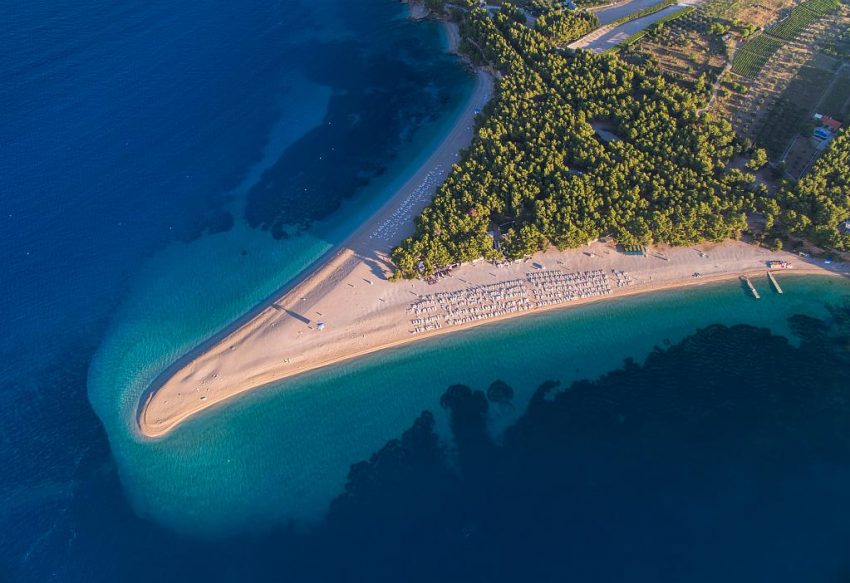 Visiting the island of Brač is kind of a must when in Dalmatia, especially because of its world famous beach Zlatni rat located near the small charming town of Bol. Bol is a small town situated on the southern coast of the island of Brac, under the Vidova Gora mountain (778m), which is the highest top of the Adriatic islands. It is the oldest town on the island dating back to 12th century. Its popularity is due to one of the most beautiful and breathtaking beaches on the Mediterranean – Zlatni Rat (Golden Horn), which is located 2 km from the center of the town. This pebble stone beach has a unique shape and it stretches more than 500 meters into the sea, whose cape is changing its position, turning from the west to the east depending on the sea current and the wind. There are 10 km of small pebble beaches along the coast of the island, where you can enjoy the breathtaking nature and crystal clear sea. Bol is one of the leading destinations in Croatia and the winner of the title Absolute Champion of Croatian Tourism for 2009, 2010 and 2011, but the interesting fact is that Bol was a Champion of Adriatic Tourism back in 1965 and from that date has won this title 17 times. Read more about Bol here.
Read more about Bol here.
Hvar, Island of Hvar
Hvar is an island off the coast of southern Croatia. It is the longest island of more than 1200 Croatian islands and the one with the most hours of sunshine in Europe. Town Hvar is an ancient city and a port, situated in a bay on the southern coast of the island. It is a protected Cultural Heritage area. With its story, architecture, Mediterranean landscape, crystal clear sea, untouched bays with beautiful pebble and sand beaches Island and town Hvar will definitely enchant you. It is one of the most visited Croatian destinations. Hvar is a perfect holiday destination for couples, families and young people in search of active holidays and rich nightlife. Town Hvar is a popular destination for many international celebrities, sailors and active young people. Read more about Hvar here.
Read more about Hvar here.
Vis, Island of Vis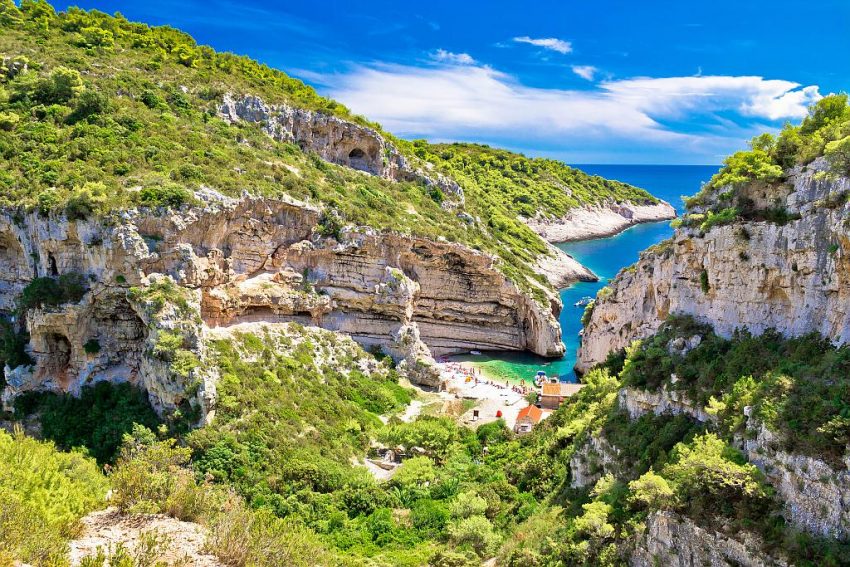 Vis is a small island in Central Dalmatia, known for its stunning landscape, amazing caves, beautiful beaches like the Stiniva beach, cultural heritage and gourmet delights. It is a perfect place for those in search of relaxation, excellent food, and wine. The island's two largest settlements are the town of Vis and Komiža, where you can discover the rich cultural heritage of the island as it has been inhabited since the Neolithic period. In the 4th century BC, the Greek tyrant Dionysius of Syracuse founded the colony Issa on the island. After which the island became an independent polis founding its own colonies, but it didn't last long. Just as other parts of Dalmatia, over the centuries, the island was under the rule of many different empires that have left a legacy which is still evident.
Read more about Vis here.
The Island of Šolta
Šolta is an island situated in Dalmatia region, just south of the city if Split and west of the island of Brač. It is a small island, with a population of only 1700 inhabitants. The island is a perfect destination for all those in search of crystal clear sea, secluded beaches, and delicious fresh food offering ideal conditions for a relaxing and quite holiday. As a tourist destination Šolta is interesting to nature lovers, sailors as well as to diving, sport fishing, and hunting lovers.
Read more about Šolta here.
Krka National Park
Krka National Park is one of eight Croatian National parks (Plitvice Lakes, Brijuni, Kornati Islands, Mljet, Paklenica, Risnjak, Northern Velebit and Krka) and it is named after the river Krka that it encloses. It is located in central Dalmatia, near the city of Šibenik. It was proclaimed a national park back in 1985. The Krka National Park is a vast, mainly unchanged region of extraordinary natural value and includes many preserved or insignificantly altered ecosystems. The national park Krka has more than 850 different plants, over 200 species of birds and fish and 18 species of bats. It has Europe's second most concentrated areas of lavender per square km in Europe, therefore a high frequency of wasps and bees in the area. Krka is also home to a first hydroelectric power station in Europe. Skradinski Buk waterfall is one of two main waterfalls on Krka river, although there are seven amazing waterfalls on Krka river.Roški Slap is the second main waterfall on Krka river, particularly appealing due to its cascades. There is a road over the waterfall which dates back to Roman times. One of the main attractions other than the waterfalls is a small island of Visovac.
Read more about Krka National Park here.
Trogir
Trogir is a small historic town situated on the Adriatic coast, just 30 km west of the city of Split, founded in the 3rd century BC by the Greek colonists. Its historic center has been included in the UNESCO list of World Heritage Sites in 1997 and it is one of the best preserved Romanesque – Gothic towns in Europe. Trogir's historic core, situated on a small island, with its orthogonal street plan which dates back to the Hellenistic period, treasures a high concentration of historic monuments from Romanesque, Gothic, Renaissance and Baroque periods.
Read more about Trogir here.
Omiš
Omiš is a charming Central Dalmatian town located just 25 kilometers southeast of Split. It is famous for its rich history, amazing landscapes and as one of the best places in Croatia for adventure holidays. The area was permanently inhabited more than 2000 years ago when the locals living on the other side of the mountain started to move and build their houses near the sea. In medieval times Omiš was famous for its pirates, who ruled the seas from Split to Dubrovnik, taking a fee from all the ships sailing the channel of Brač in front of Omiš. Many foreign attackers tried to conquer Omiš, like the Turks and Venetians. Venetians attacked the famous Corsairs of Almissa (from lat. Omiš) several times without success, until the late 13th century, when the Pope organized another crusade against Omiš pirates and finally won. Uner the Venetian rule, Omiš gained its present appearance, except the town walls, which were pulled down after the fall of the Venetian Republic.
Read more about Omiš here.
Šibenik
Šibenik is a historic town located in the Croatian region of Dalmatia. Unlike other cities in Dalmatia, Šibenik was founded by the Croats on a strategic place where Krka river flows into the Adriatic sea. This small, but absolutely fascinating town will leave you great memories as it has so much to offer. Beautiful narrow streets and small squares, peaceful bay and hidden beaches, kind people and good food, nearby islands and national park will make your vacation unforgettable.
Read more about Šibenik here.
Zadar
Zadar is a small town on the Dalmatian coast, but nevertheless, it is known for its rich and tumultuous history. It is a monument on its own offering an amazing opportunity to its visitors to dive into the remains of ancient settlements, old churches, and ruins. Zadar won the title for The Best European Destination in 2016 and as it can be assumed it is a popular touristic spot. It is also a magical place to enjoy one of the most beautiful and scenic sunsets in Europe. Alfred Hitchcock during his stay in Zadar in 1964 said: "Zadar has the most beautiful sunset in the world, more beautiful than the one in Key West, Florida, applauded at every evening".
Read more about Zadar here.
Dubrovnik
Dubrovnik is a small town situated on the Dalmatian coast. Since 1979 it is on the UNESCO World Heritage Site list. This beautiful old town has been nicknamed "The Pearl of the Adriatic" and every year attracts thousands of tourists from all around the world. Dubrovnik is an all year round destination, visited by many international celebrities and one of the most popular Mediterranean cruising destinations. Dubrovnik was chosen as a location for filming many international movies and TV series like "Game of Thrones", "Casanova", "The Secret Invasion" (1964), "Captain America" (1990), Star Wars Rogue One (2016) etc. So if you want to enjoy some amazing history, but also beautiful beaches, crystal clear sea, breathtaking atmosphere and delicious local food, Dubrovnik is the perfect top destination for you.
Read more about Dubrovnik here.