Top 5 all-year round Croatian destinations
It's no secret that Croatia is a popular summer destination as it has a spectacular coastline, more than 1200 islands, beautiful beaches, and crystal clear sea. But there are some destinations that are popular throughout the year and no matter when you plan on visiting, the magical charm of these places will leave you great memories.
Zagreb
Zagreb along with Dubrovnik is the most visited destination in Croatia during the winter. The beautiful and charming Croatian capital was for many years in the shade of other popular destination, but after it earned a recognition for the best Christmas Market in Europe for two years in a row it suddenly became one of the most requested destinations in Croatia. Zagreb is definitely one of the Europe's most underrated cities, as it has so much to offer. Read more about Zagreb and why it should be your next holiday destination here.
Opatija
Opatija has been a popular touristic summer and winter destination since the 19th century when nobles and aristocrats used to enjoy its calmness and beauty and it preserved that reputation 'till today. The first hotel ever built along the Adriatic coast was Hotel Quarnero in Opatija, built in 1884. As we previously stated, Opatija is one of the few places in Croatia to attract tourists all year round, not only for its beauty but also for the popular and luxurious wellness offers. Many events are organized during the whole year which traditionally ends with "Winter in Opatija", a rich program with many events such as the Chocolate Festival and the Ice magic. Read more about Opatija here.
Dubrovnik
This beautiful old town has been nicknamed "The Pearl of the Adriatic" and every year attracts thousands of tourists from all around the world. Dubrovnik is an all year round destination, visited by many international celebrities and one of the most popular Mediterranean cruising destinations. Depending on your preferences, you can visit Dubrovnik during the summer so you could also enjoy in spectacular beaches and amazing summer vibe, but we must admit that in summer days it is quite overcrowded, so if you don't like the queues and crowds, avoid summer months. During the winter, Dubrovnik doesn't loose its charm, on the contrary, it becomes more magical. A few years ago, CNN listed Dubrovnik as one of top ten cities in the world to spend New Year's Eve along with New York, Tokyo, London… Read more about Dubrovnik.
Split
Split, just as the Croatian capital, was for many years one of the most underrated destinations in Croatia. It is an important passenger hub and a gateway to central-Dalmatian islands, so it was seen just a transit place when visiting famous Croatian destinations such as Bol or Hvar. But fortunately, in the last decade, Split became one of the most important destinations in Dalmatia, as tourist discovered it magnetic charm and friendly atmosphere, other than rich history, as Split was founded more than 1700 years ago by the Roman Emperor Diocletian who left the great legacy behind. Read more about Split.
Plitvice National Park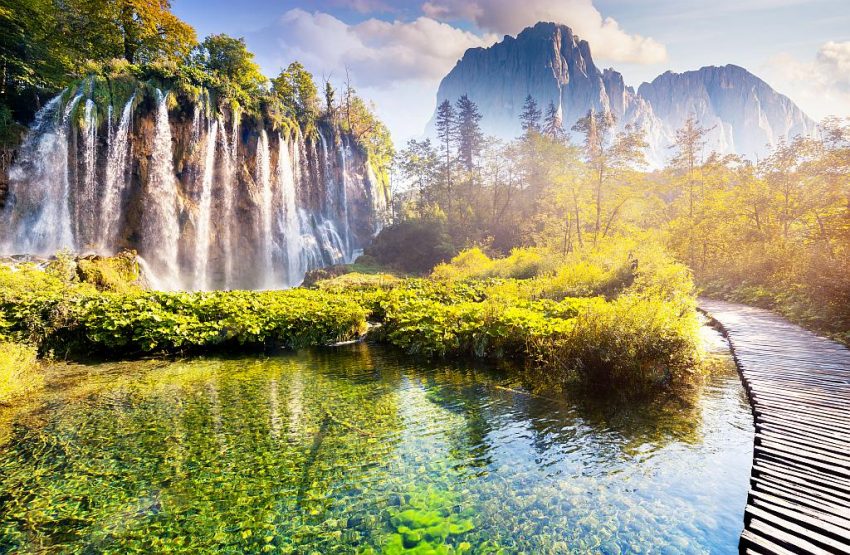 Plitvice National Park is one of the most desirable destinations in Croatia, and if you've ever visited the park, then you surely know why. The park circles a chain of lakes linked by waterfalls and underground tunnels that disappear and reemerge in dramatic fashion amid lush foliage and unusually tame and photogenic wildlife.
The particularity of these breathtaking lakes is that they change colors repeatedly during the day and it depends on the quantity of organism and minerals contained in them and the position of the sun. The colors go from turquoise, blue, light green and sometimes even gray. Plitvice National Park is a magical pristine world of woodland, lakes, waterfalls and caverns. Read more about Plitvice National Park.