Krka National Park
Krka National Park is one of eight Croatian National parks (Plitvice Lakes, Brijuni, Kornati Islands, Mljet, Paklenica, Risnjak, Northern Velebit and Krka) and it is named after the river Krka that it encloses. It is located in central Dalmatia, near the city of Šibenik. It was proclaimed a national park back in 1985. The Krka National Park is a vast, mainly unchanged region of extraordinary natural value and includes many preserved or insignificantly altered ecosystems.
The national park Krka has more than 850 different plants, over 200 species of birds and fish and 18 species of bats. It has Europe's second most concentrated areas of lavender per square km in Europe, therefore a high frequency of wasps and bees in the area. Krka is also home to a first hydroelectric power station in Europe.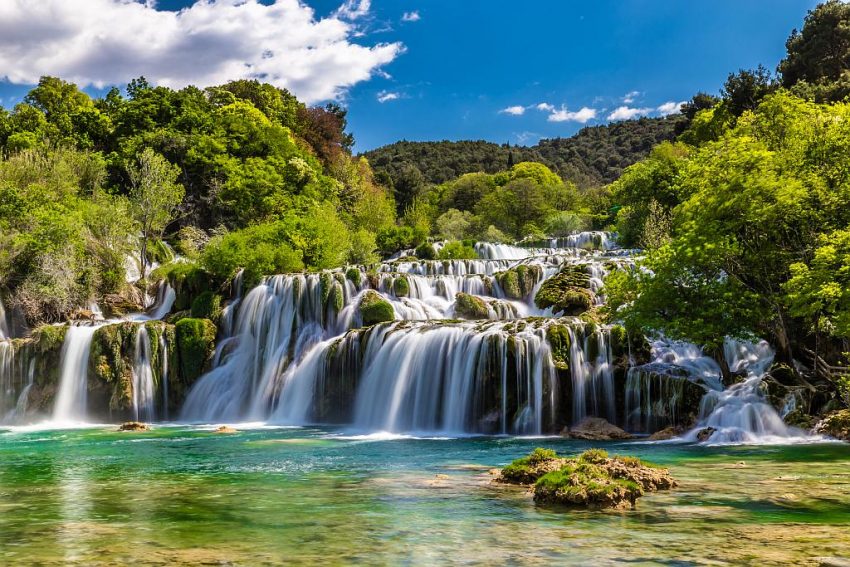 Breathtaking waterfalls
The ria of the Krka river is 23 km in length and it is the mouth of the river that flows into the sea, created by the rise of Adriatic sea level during the last quaternary glaciation. It is an area extremely rich in freshwater and saltwater fish due to its purity and unaltered ecosystem. Skradinski Buk waterfall is one of two main waterfalls on Krka river, although there are seven amazing waterfalls on Krka river. It is the lowest and the longest one. Skradinski Buk is considered one of the most beautiful calcium carbonate waterfalls in Europe due to its richness in geomorphological forms, ecosystem and numerous impressive light effects in the whirlpools. Roški Slap is the second main waterfall on Krka river, particularly appealing due to its cascades. There is a road over the waterfall which dates back to Roman times.
Island of Visovac
One of the main attractions other than the waterfalls is a small island of Visovac, which is home to a Catholic Monastery founded by Franciscans back in 1445. But the island was settled by Augustinian monks who established a small monastery dedicated to the St Paul 100 years before Franciscans enlarged and adopted it. The monastery keeps a very important collection of books, historical manuscripts, and church clothes. The park includes also Eastern Orthodox Monastery founded in 1345.
There are numerous facilities available like souvenir shops, museums, bars and restaurants. National Park has five entrances, but there are the two main entrances at Skradinski Buk and Roski Slap. For those who come by car, there is a free parking nearby the entrances. There are many day tours organized to visit the entire national park, swim in the lower lake and enjoy the crystal clear water, visit watermills, Ethno museum, explore the waterfalls along the wooden walkway and take a boat cruise along the river.
[vc_row widthopt="" fixedbg="" footerrow=""][vc_column][vc_btn title="See on Map of Croatia" color="sky" align="center" i_icon_fontawesome="fa fa-map-o" add_icon="true" link="url:/listing/krka-national-park/|title:See%20on%20map%20of%20Croatia||"][/vc_column][/vc_row]