Island of Brač
General Info
Brač is an enchanting island of Dalmatian Archipelago and the third largest island in the Adriatic. Brač has years of experience in accommodating and welcoming visitors which enabled it to surface as one of the finest island holiday destinations in Europe. Brač is a stunning and charming island of Croatia with its unique style and characters. It has a reputation for stunning views, extraordinary beauty, and impressive landscapes. The economy of the island greatly depends on Tourism, oil, fish, and wine exports.  This beautiful and enchanting island is served by Brač Airport, as well as catamaran and ferryboat service from Split and Makarska is available several times daily.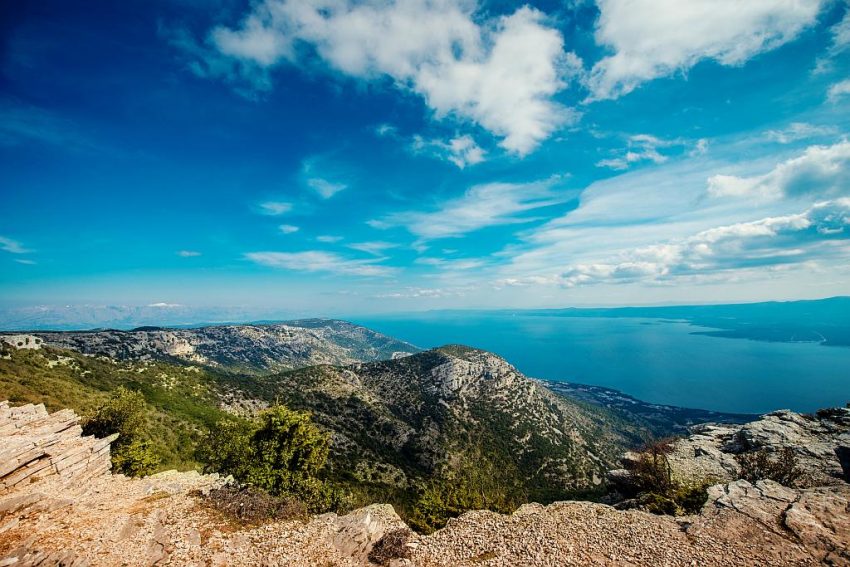 What to visit
Bol – Bol is a small town situated on the southern coast of the island of Brac, under the Vidova Gora mountain. It is the oldest town on the island dating back to 12th century. Its popularity is due to one of the most beautiful and breathtaking beaches on the Mediterranean – Zlatni Rat (Golden Horn), located 2 km from the center of the town. Bol is the leading tourist destination in Croatia, and it can often be seen on the front page of many international travel magazines, frequently listed as having one of the most beautiful beaches in the world. For more info about Bol click here.
Supetar – when arriving on the island by ferry, the first town you will see is Supetar. Quaint island's capital offers you a stunning view of the Dalmatian coastline. With its 3500 inhabitants, Supetar is the biggest settlement on the island. Nearby there is a small village Splitska settled by Romans to mine stones, situated in a charming bay, where you can easily find hidden beaches under the pine trees where to pass a relaxing and regenerating afternoon. You can also visit Roman quarries with a picturesque path leading to it.
Škrip is another small settlement and the oldest one on the island with only 172 inhabitants. A perfect place to admire history in the Native Museum, through the ruins of the ancient castle, village walls and of course the amazing landscape.
Nerežišća – situated in the inner island and not founded near the sea because of the fear of pirates marauding the Adriatic. This charming little village was once the capital od the island. It will enchant you with its narrow streets, small squares and plebian stone houses. In the center of the village, you can see a 200 years old pine tree growing through the roof of the chapel.
Milna – a small village situated on the west coast of the island, offers some of the most beautiful bays and hidden beaches on the island.
Pučišća –  Pure white limestone for the White House came from the nearby quarries, as Pučišća is a famous for centuries for its stone cutter tradition. Some parts of other famous buildings around the world were constructed using Brač white limestone like Diocletian Palace in Split, Parliament in Budapest, Parliament in Vienna etc. The tradition of stone cutting and shaping is being continued at Stone Mason School which is being visited by many tourists each summer.
Selca and Sumartin – small villages on the east part of the island are connected with the mainland by daily ferry line from Makarska. They began its existence as an agricultural and fisherman settlement, but thanks to stone masonry, the settlements began to evolve rapidly.  Two little picturesque villages will enchant you with beautiful stone houses, narrow streets, ancient monuments and churches, bays and small pebble beaches nearby.
Postira – fisherman's village located on the north side of the island will offer you some amazing pebble and sand beaches with an impressive view on the mountain Biokovo. Postira has one of the best Croatian pilchard producers, it should be a must taste if in Postira.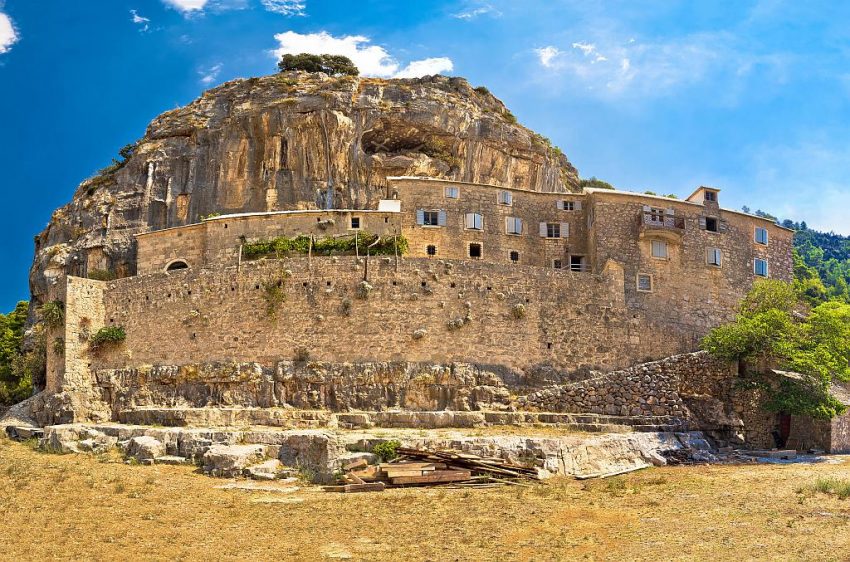 Beaches
Brač beaches are one of the main attractions for most visitors in the island. The island is gifted with lots of beautiful bays and beaches such as Zlatni rat, Paklina bay, Lovrečina, Vrilo, Punta beach and more. Zlatni rat beach is the most famous beach on the Island, situated near the picturesque town of Bol.
Food and Drink
And when it comes to eating out in Brač here is an idea of what to expect: Of course the best thing you can do is to try some specialties from traditional Dalmatian cuisine, and there are so many. Traditional Dalmatian dishes are rich with herbs like sage, rosemary, thyme, basil, and oregano. There is a significant use of extra virgin olive oil and garlic. Brac like many other Dalmatian islands is famous for its olive oil, wine, and herbs cultivation and you can buy them in some shops in the town center. The most famous dishes are prepared with lamb meat, fish, and shells. Some of the traditional dishes we recommend you to try are: Dalmatian smoked ham, Olives, and islands famous goat cheese as an appetizer, Black risotto, Fish brudet, Dalmatian pasticada (stewed beef in wine with prunes and vegetables) and various types of fresh grilled fish with vegetables. Traditional desserts that you can taste on the island are Rožata (similar to pannacotta), Hrapoćuša cake, Pašurate (something like mini donuts) and Hroštule. Bol is also famous for its old winery and wine cellar and medal winning wines like Stina Pošip and Stina Plavac. We also recommend you to try Prosek, nectar sweet wine.
Sport and Recreation
Windsurfing and Kitesurfing – Bol is a real paradise for all fans of water sports, it offers perfect conditions for windsurfing and kitesurfing. Each year there are various events organized from IFCA Slalom World Championship, Euro Cup and much more.
Scuba diving and snorkeling – Scuba diving and snorkeling are also very popular on the island, as it has impressive dive sites, underwater landscapes, and rich marine life.
Fishing – Brac is a fisherman's island, so it is the perfect place for those who wish to learn how to fish, experience the open sea and enjoy the sun. It is a unique experience, guided by local fisherman who will provide you all the equipment, all you need to take with you is the enthusiasm.
Mountain biking – this is another unique experience that everyone who comes to the island should try. Fabolous rides through the old vineyards, ancient paths under pine trees and near the hundreds of years old olive trees. There are several different tours organized by various agencies on the island, that offer a fantastic chance to see the island in a unique way with different levels of difficulty taking you to tread different paths.
Hiking and Climbing – yet this is another great way to visit the best places on the island. Climbing and hiking tours are also organized on the island, and no previous experience is needed.
Tennis – There is an enormous Tennis center in Bol with 27 tennis courts. You can take the beginner or advanced tennis courses for adults while your children can take tennis courses at Tennis Academy Mickey with Walt Disney license. There are many tennis tournaments organized in Bol each year, such as WTA Bol Open, 125K Series.
There are many other outdoor activities that you can practice like cycling (on numerous off-road paths on the island), beach volleyball, laser sailing, quad tours, basketball, boccie, table tennis and much, much more. You can also take a tour with a small submarine and admire the rich local marine life.
Brač Souveniers
If you want something particular to take home with you from the island of Brač, you can buy different white stone and olive wood souvenirs like clocks, mortars, vases, jewelry and much more. Numerous homemade high-quality eco-products that you can buy like extra-virgin olive oil, lavender products, homemade jams are also a perfect souvenir and a gift for your family and friends. On the island you can also buy some of the highest quality wines in Croatia, so don't miss a wine and olive oil tasting tour.
Useful links
Ferries – www.jadrolinija.com
Bus lines – www.autotrans.hr
Airport – www.airport-brac.hr