Top 10 Things to Do in Istria
Istria is one of the best-kept secrets in the modern world, with incredible cultural and historical heritage, delicious food and friendly people. You will discover places where time has stopped, where flowers adorn centuries-old stone houses, where walking along the medieval streets feels like entering a time machine and find infinite places to see the nature at its best.
Wander the streets of Pula
Known for its long tradition of shipbuilding, tourism, and winemaking, Pula also stands out among other larger Croatian cities for the rich and well-preserved Roman architecture, the amphitheater being the most famous and dominant part of it. Start by wandering through the beautiful streets and discovering several museums, Roman ruins such as the Arena, Temple of Augustus, Arco dei Sergi, Roman Floor Mosaic and many other important historical sites. If you are interested in reading more about Pula, click here.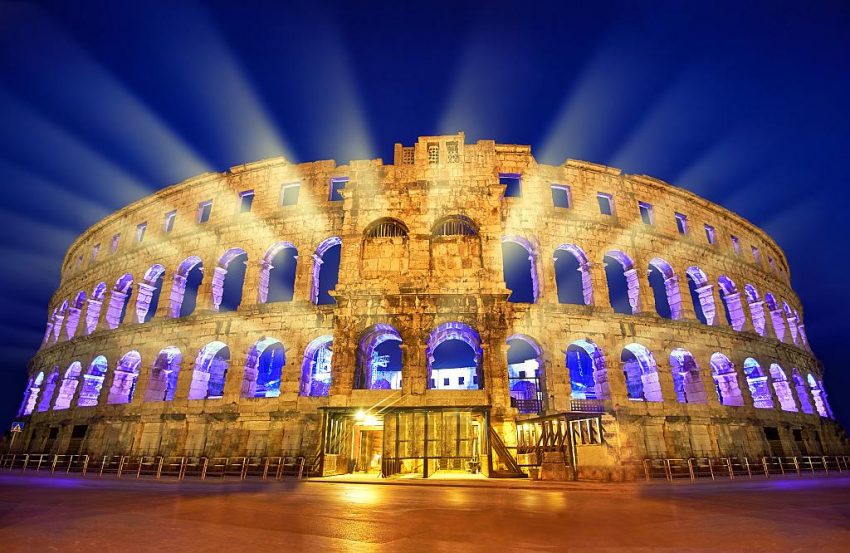 Wine down in Istria
After exploring the wonders of Istria and discovering its rich cultural and historical heritage, get lost in the vineyards of the Istrian countryside. It is a very popular wine region and the wine making in Istria has a long and continuing history. A large portion of the Istrian countryside is dedicated to producing wines, high-quality wines made from Teran, Momjan's Muskat or Istarska Malvasia grapes.  Wander around beautiful landscapes of Istria and visit the traditional family owned wine cellars and taste some of the best Croatian wines. Don't miss a chance to taste Istrian Medica (grappa with honey) and Istrian supa, a specialty prepared with hot red wine, olive oil, and spices.
Go wild in the Učka Mountain
Učka is a limestone massif that divides the Kvarner region from central Istria and it is protected as a Nature Park. There are many activities you can do on Učka like mountain biking, hiking, free climbing, skydiving, caving and many other. It is also a great place to visit for families with children and be sure to visit the children's educational path. Within the Nature Park, there are 8 marked mountain-bike trails of varying difficulty to a total length of 180 km. Visit the mountain's highest peak, Vojak (1402 m), where you will find Vojak Tower built in 1911, from which you can enjoy a stunning panoramic view of Istria, Kvarner bay and the islands.
Explore the hilltop towns
Your holidays in Istria would not be complete without visiting at least two of its impressive little hilltop towns. Hum with its 30 (2011 Population Census) inhabitants is formally listed as the smallest town in the world. It is located in the center of Istria region, near the town of Buzet, know as a "town of truffles". The city which is only 100 meters long and 30 meters wide holds so much of history. Motovun is a small medieval village in central Istria, a famous tourist attraction and one of the pearls of the Istrian inland. Walking through small narrow streets, discovering its rich history through medieval buildings or simply admiring the amazing view from the hilltop will make you fall in love with this magical place.It has been added to the UNESCO Tentative List in order to enter the World Heritage list. Visit also the medieval hilltop towns of Grožnjan, Momnjan, Oprtalj, Roč and Buzet. The beautifully persevered fortified towns with walls, towers, narrow streets are a vision of medieval perfection and are an important part of the Istrian historical heritage.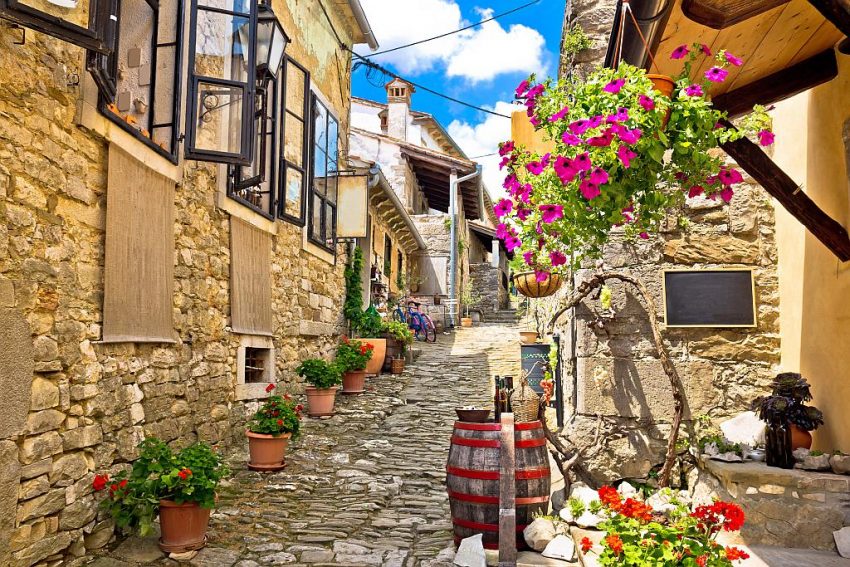 Take a day trip to Brijuni National Park
Brijuni Islands (Brionian Islands) are a group of fourteen small islands in northern Adriatic, separated from the west coast of the Istrian peninsula by the Fažana Strait. Popular for their impressive beauty, the islands are a famous holiday resort and a Croatian National Park. Other than enjoying the amazing landscape, sunbathing and swimming, you can explore many stunning historical sites, most of them located near the Verige bay. Don't miss to visit the Safari Park on the island of Veliki Brijuni, home to a variety of exotic animals, many of them donated as gifts from Croatian diplomatic partners like the Asian elephant and zebu from India. The island has another interesting particularity, as it is home to four sites with over 200 dinosaur footprints from the last period of the Mesozoic Era, absolutely worth visiting.
Eat local
Istrian cuisine is a colorful mix of various influences that accumulated through history – Austrian, Hungarian, Central European, but above all Italian. You can enjoy fresh seafood specialties, a brodetto, Istrian prosciutto which is unique by the way it is prepared, cured and dried in the wind. Then, there is so-called fritaja (scrambled eggs) prepared in many different ways, maneštra (traditional thick soup with potatoes and beans), various types of pasta like fuži, gnocchi, ravioli etc. For those with a sweet tooth, try out kroštole, fritule or cukerančići. All these delicacies go perfectly together with a glass of good local red wine. Don't forget to enjoy the real taste of the extraordinary Istrian gastronomic specialties with truffles. Istria is a high-quality truffle mecca, the trademark of the Istrian cuisine. You can also attend several festivals dedicated to these tasty tubers or take a truffle hunting tours too. Did you know that the biggest truffle ever was found by Giancarlo Zigante back in 1999 in the Istrian forest near Buje that weighed 1.31 kg.
Relax in Opatija
Opatija has been a popular touristic all year round destination since the 19th century when nobles and aristocrats used to enjoy its calmness and beauty. This charming little town preserved that reputation 'till today, not only for its beauty but also for the popular and luxurious wellness offers. In fact, Opatija is a perfect place for all those in search of a great escape from the urban rush, where you can easily relax and revitalize your body and mind. Did you know that the first hotel ever built along the Adriatic coast was Hotel Quarnero in Opatija (built in 1884)?
Scuba dive near Rovinj
Croatia has a rich underwater life, sites, and wrecks to explore in the crystal clear sea. One of the most famous is the wreck of Baron Gautsch, Austro-Hungarian passenger ship that sank in 1914. It sank after running into a minefield that has been set by the Austro-Hungarian Navy. The ship, 84.5 meters long and 11.64 meters wide was transporting 306 passengers and crew, of which only 159 were rescued. The wreck of Baron Gautsch lies near Rovinj, on a sandy and stony bottom 40 meters deep, overgrown with algae and sponges. It is one of the most popular diving destinations for wreck divers in the Adriatic.
Bird's eye view over Istria
Istrian peninsula offers some of the most spectacular landscapes in Croatia and some of the best ways to enjoy the views are definitely paragliding, skydiving, and panoramic flights. So why not to add some adrenaline to your vacation in Istria and admire its impressive beauty from a different perspective. There are several paragliding sites in Istria, most of them near the Ucka mountain and the town of Buzet.
Explore Istrian caves and caverns
Istria has many underground caves and caverns, many of them opened to visitors, while other are accessible only to experienced cave explorers. The most popular is the Romuald cave, located on the east side of the Lim Channel,  where, according to the legend in the 11th-century, lived a holy Romuald. This 105 meters long cave is protected as the karst phenomenon. Other fantastic caves to visit in Istria are the Barendine grotta near Poreč, Pazin cave, Mramornica cave and Festinsko Kraljevstvo cave near Zminj. If you are into sea kayaking, we recommend you to visit many other stunning caves where Istria meets the Adriatic sea.