10 stunning beaches in Dalmatia
Croatia through the years has become a very popular tourist destination, as it has a rich cultural and historical heritage, stunning landscapes and amazing places to spend a beach holiday. Croatia has more than 1200 islands and islets, but not only, its Adriatic Sea mainland coast is 1,777 kilometers long and it hides numerous amazing beaches, bays, and caves. Its stunning beaches always find their place on the lists of best beaches in the world in many prestigious international magazines, as Zlatni rat beach, which became a trademark of Croatian tourism. Unlike many seaside destinations around the world, Croatia has a limited number of sand beaches, as most of them are made of small, gray and white pebbles. Every major island has well-organized beaches, with umbrellas, beach lounge chairs, showers, water sports rentals, sea rescue service ect., but also numerous hidden and isolated beaches which offer ample tranquility for those in search of total relaxation. Today, we bring you a list of some of the most beautiful beaches in Dalmatia, let us know if you have already visited any of these stunning beaches.
Zlatni Rat beach, island Brač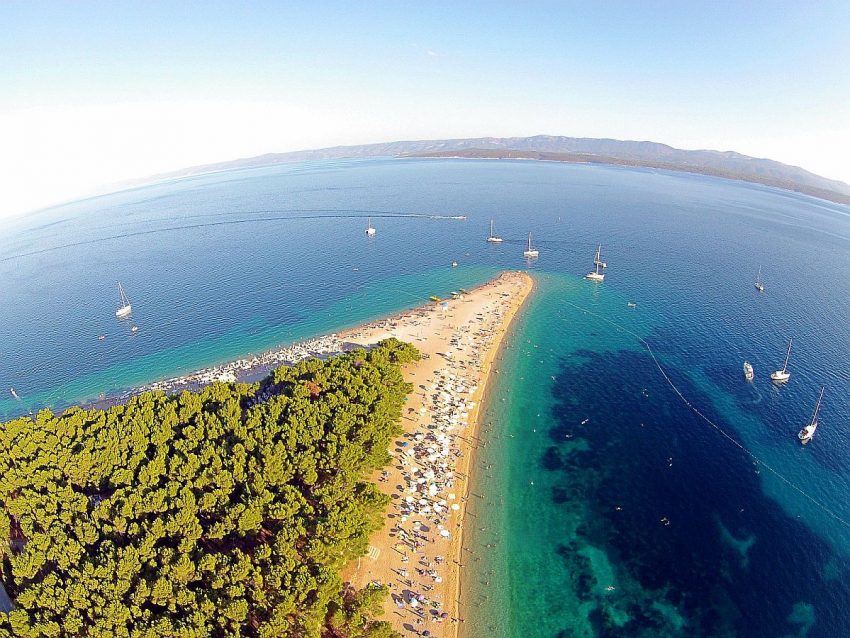 This stunning 500 meters long beach is situated on the southern coast of the Island of Brac just 2 km from a beautiful town of Bol. Its elegance and allure have made it the symbol of both the island and coastal Croatia. It has a unique shape, like a tongue that stretches into the sea and changes its shape and position, depending on the wind, tide and the current. It is protected by the government of Croatia as a geomorphological monument. Zlatni Rat beach has a Blue Flag, which guarantees the highest quality of water, facilities, safety, environmental education and management.
Stiniva beach, island Vis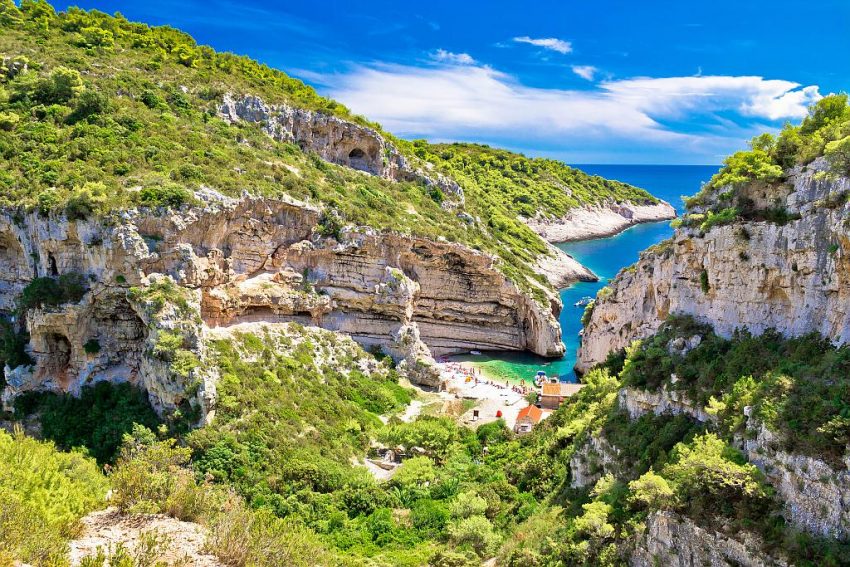 Stiniva beach is located in the southern part of the island of Vis. It is a beautiful hidden beach on the southern part of the island. Surrounded by high cliffs, one part of this fantastic pebble beach is always in the shade, so you can also hide from the hot midday sun, as umbrellas and beach chairs are not available for rent on the beach. This breathtaking bay can be reached by boat or on foot and the wild landscape with clean turquoise sea will give you some unforgettable moments.
Sakarun beach, Dugi Otok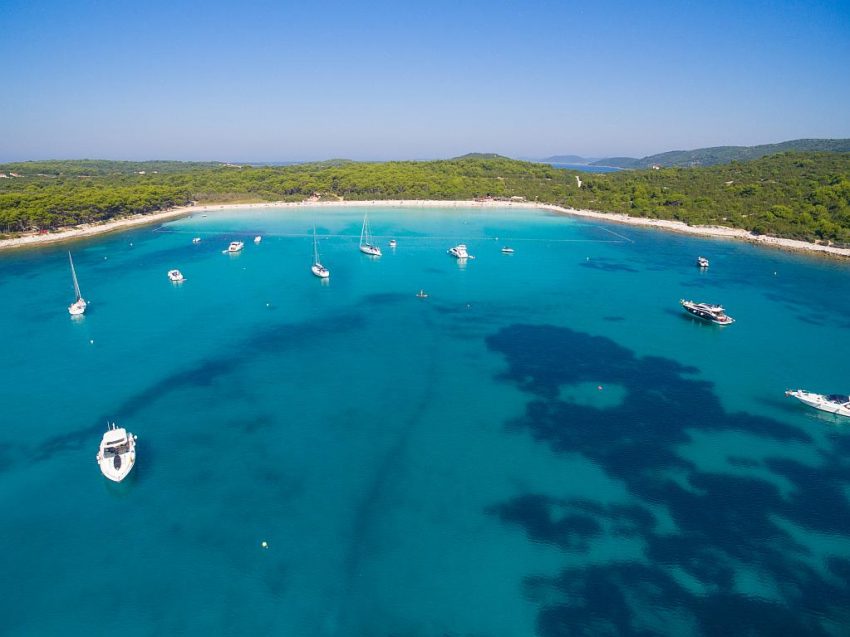 Sakarun beach is located on the northwest side of Dugi Otok. It is best known for its white sand that is not very common in Croatia, where the beaches are usually completely pebbly. The beach is located in a bay, facing south and it is around 800 meters long. This beach is one of the most beautiful beaches in Croatia, but also one of the best-kept secrets. The water is calm and shallow, so that makes it a perfect place for families with children. On the beach, there are two facilities that offer food and drink, but besides that the entire western coast of the island is not settled, giving you the experience of pristine coastline unspoiled by man.
Prapratno beach, Pelješac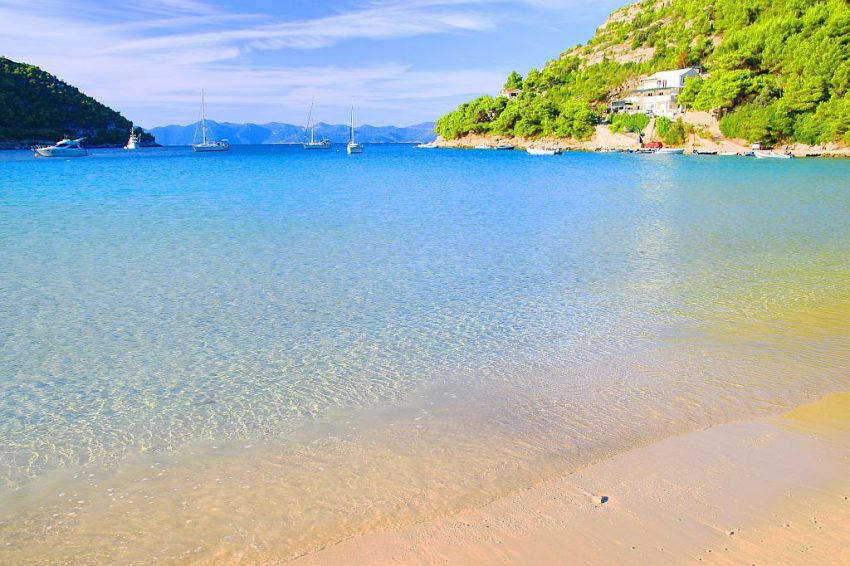 Pelješac peninsula has a 200 km long coastline, home to numerous beaches and coves, where to enjoy an environment of total calm and tranquillity. On Pelješac peninsula you can find pebble and sand beaches, nudist beaches, well-equipped or completely hidden ones surrounded only by unspoiled nature. Popratno beach is situated in the homonymous bay, famous for its shallow and warm water, which makes it ideal for families with children. The beach is around 300 meters long, surrounded by a rocky coast, but there are also pine trees which provide natural shadow, the perfect hideout from the hot midday sun.
Pasjača beach, Konavle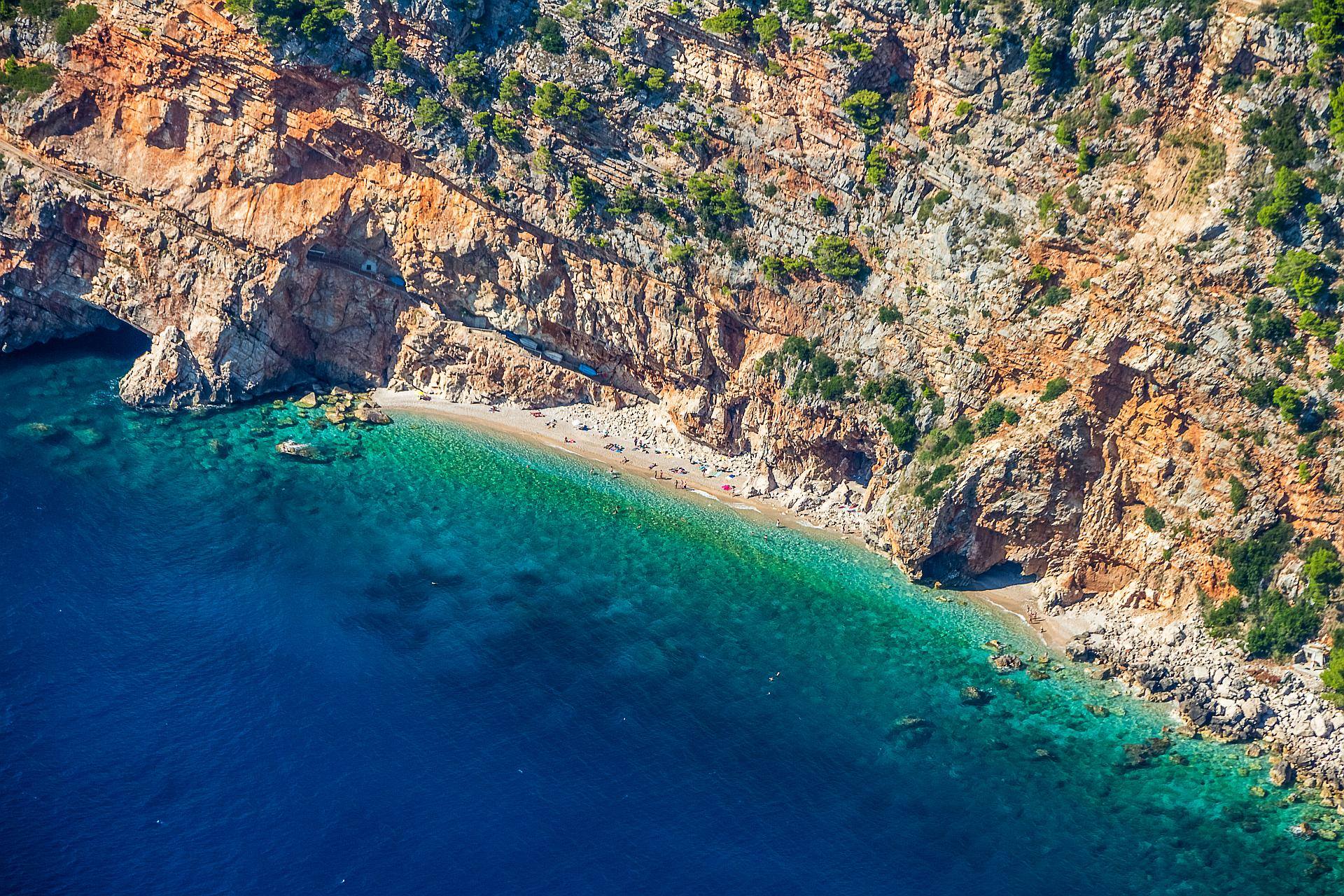 Pasjača beach is located near the town of Konavli in the southernmost part of Croatia. The beach Pasjača is approachable only by long and very steep stairs carved into the rocks. The stairs bridge the altitude difference of more than 100 meters. One of the best things about this beach is the fact it is rarely crowded because it is difficult for boat and yacht to anchor in the area and the beach is not easily accessible. Crystal clear sea, small white pebbles, and the rugged coastline make this isolated strip of land the perfect place to get away from the city stress and all the crowded places.
Divna beach, Pelješac peninsula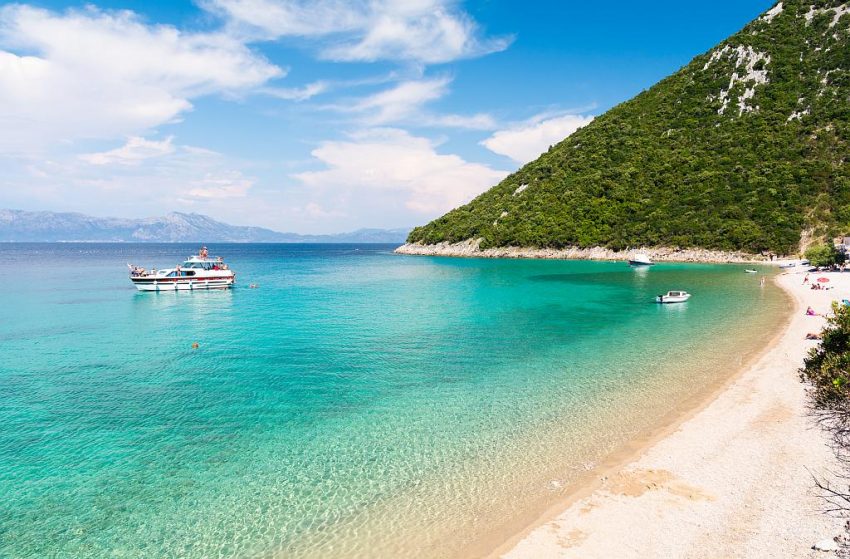 Divna beach is another spectacular beach situated on the northern part of the Pelješac peninsula. This stunning 200 meters long beach is located in the homonymous small bay and it offers a spectacular coastal scenery. There are no facilities on the beach, just a campsite that offers some basic facilities. The particularity in which you can enjoy when in Divna bay is a small inhabited island in front of the beach that you can swim to. With a somewhat Robinson appearance, the bay is perfect for those in search of a unique relaxing experience surrounded by unspoiled nature.
Saplunara and Blace bay, Mljet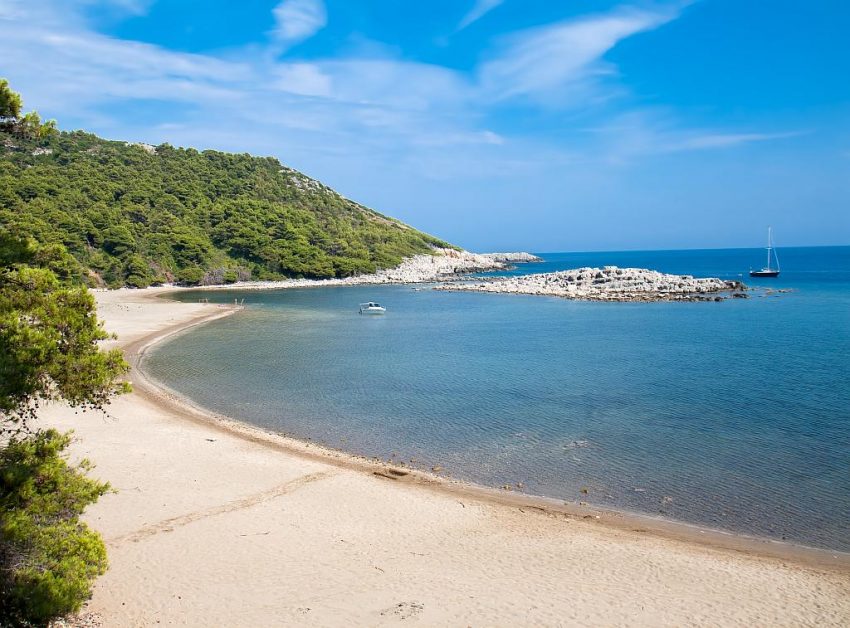 Saplunara beach is a sandy beach located on the southeastern point of the island. Due to the existence of many endemic plants, this kilometer long bay and its surroundings were proclaimed a protected area. Saplunara actually consists of two main beaches, Vela (Big) and Mala (Small) Salpunara, both surrounded by a forest of Aleppo pines. The water is shallow and warm, so it is a perfect beach for families with children. Nearby there is another stunning sandy beach in the Blace bay, that seems more like a shallow blue lagoon. An interesting fact about Saplunara beach is that Luke the Evangelist wrote about St Paul the apostle, spending three months preaching on the island after he shipwrecked in 61 AD after traveling from Palestine.
Raduča beach, Primošten
Primošten has beautiful long, pebble beaches, located right in the center of the town, bathed by a crystal clear sea and almost entirely surrounded by lovely pine trees, that make a perfect hideout from the midday sun. One of the most beautiful beaches is Raduča beach, located in Vela Raduča bay and it stretches along the entire length of the homonymous peninsula. The beach can often be found on the list of the best beaches in Croatia. Another beautiful beach is Mala Raduča (Small Raduča), that lies in Mala Raduča bay, located practically in the center of the town.
Podrače beach, Brela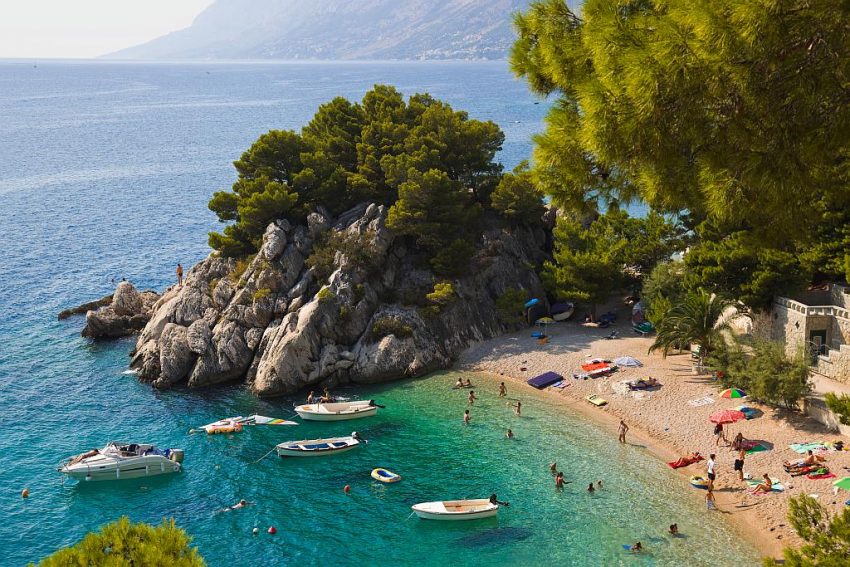 Brela is a famous tourist resort situated on Makarska Riviera, home to some of the most beautiful beaches in Croatia. Podrače beach is a small pebbly beach surrounded by charming pine and tamarisk trees. The sea is crystal clear and it is a perfect place for snorkeling and exploring the rich underwater life. The beach is quite small so it is usually crowded during the hot summer days, but because of its beauty, if you plan on visiting Makarska Riviera absolutely add it on your must-visit list.
Banje beach, Dubrovnik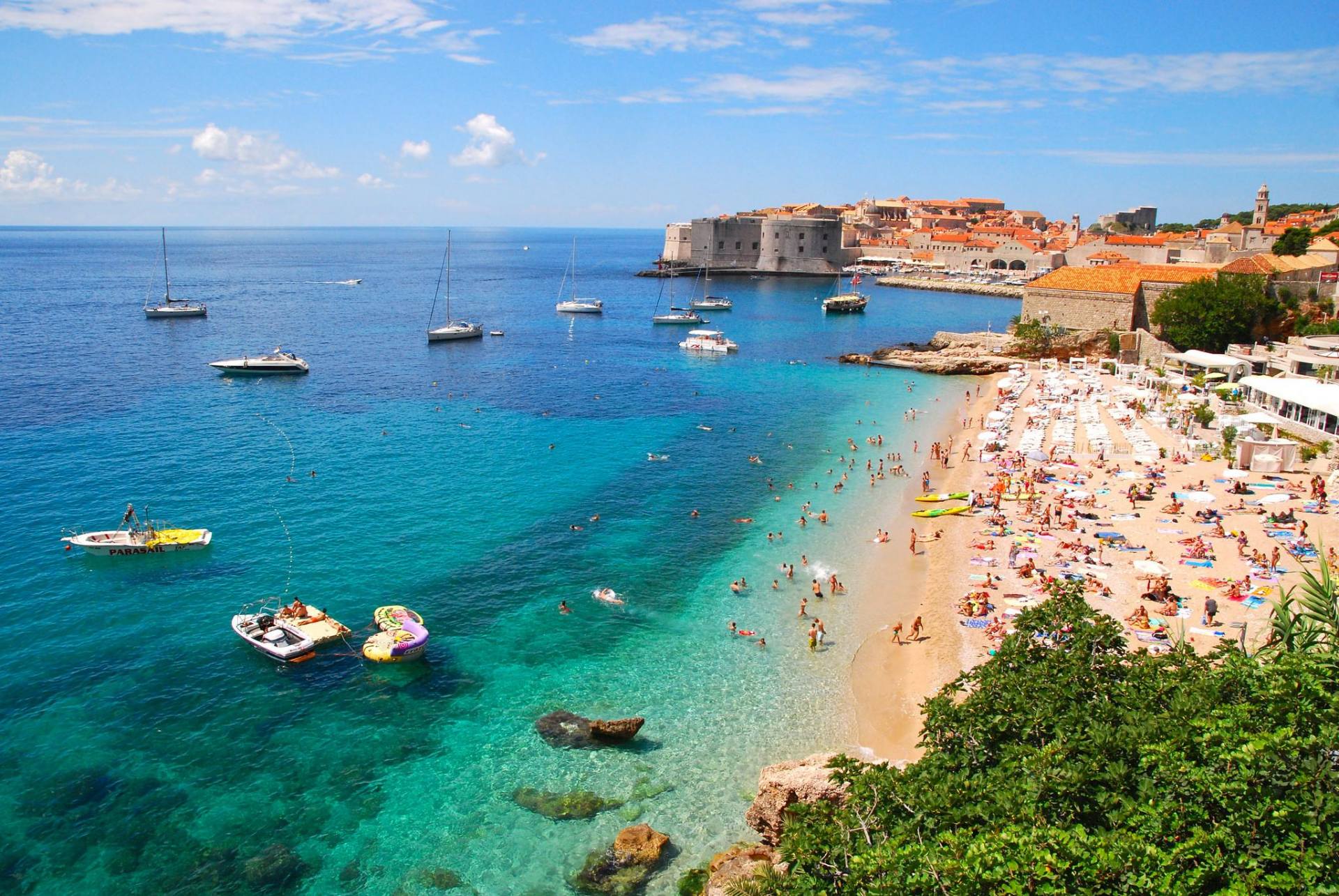 At 300 meters from the Old town, Banje beach is the closest place to take a swim and still be in the very center of Dubrovnik. Fabulous views of the City walls give you a different experience from most beaches that usually face the open sea or islands. Clearwater is the norm in Croatia, so Banje beach is no different. There is a possibility to rent a pedal boat and take a ride along the city walls or to the small island of Lokrum, that is located nearby, but you can also take a parachute ride for a much more fascinating experience that offers you an incredible view of the historic center of Dubrovnik.