Zlatni rat Beach (Bol, Island of Brac)
Zlatni rat (Golden Horn or Golden Cape) is one of the most beautiful beaches of the Mediterranean. It can be often seen on the lists of Top best beaches in the world on various websites and magazines. It is situated on the southern coast of the Island of Brac, less than 2 km from a beautiful town of Bol. There is a lovely promenade under the pine trees shade leading from the town to the beach, along which you can find many other small beaches, restaurants, bars and playgrounds for children.

Zlatni rat's elegance and allure have made it the symbol of both the island and Croatia. This fascinating 500 meters long pebble beach has a unique shape, like a tongue that stretches into the sea. Usually, the wind blows every afternoon, but one side of the beach always offers calm water and perfect conditions for families with small children. The curiosity about this beach is that it changes its shape and position, depending on the wind, tide and the current. The pine tree grove which borders the beach is home to the remnants of a Roman Villa Rustica, which included a swimming pool. Zlatni rat beach is protected by the government of Croatia as a geomorphological monument.
Water sports paradise
It offers perfect conditions for various sports activities like windsurfing and kitesurfing, and many international races are organized in Bol during the summer. Strong thermic wind called "Maestral" (Mistral) blows on a regular basis during nice weather and it gives experienced windsurfers the adrenaline they need while kite surfers will love jumping next to the top of the beach showing off their tricks in front of a large crowd. There are several windsurfing and kitesurfing centers where you can also rent the equipment or take lessons.
Zlatni Rat also offers lots of other interesting things to do like beach volley, parachute rides which offers an amazing bird's eye view of the beach and the charming town of Bol, jet ski, banana boat rides, water park for children and adults and much more. There are two restaurants just a few steps from the beach, where you can enjoy local specialties under the shade of century-old pine trees. Zlatni Rat is a family friendly beach, with several playgrounds under the shade and previously mentioned water park.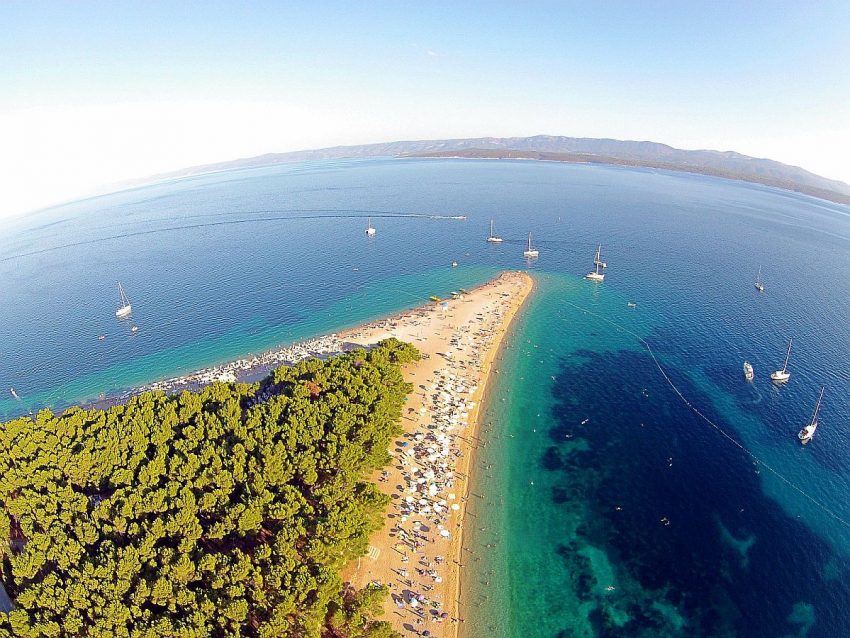 See also: