Roman ruins of Salona
Roman ruins of Salona are located near the town of Solin, few kilometers away from Split. It is a fascinating archeological gem and a great place to visit for all those who admire the history of Roman Empire. Salona (Colonia Martia Iulia Salona) was the capital of the Roman province of Dalmatia and at that time it was a populous city, with a population of about 60.000, and it was known as a resort of wealthy Roman citizens. But before being conquered by the Romans, Salona was a marketplace, set up by the Greeks in the 1st century BC. The city had classic Roman characteristics like walls, towers, public baths, forum, theater amphitheater, and an aqueduct. Many inscriptions in Latin and Greek have been found inside the walls and in the cemeteries outside, as Romans built their cemeteries away from the city limits. Some of the sarcophagi found in the cemeteries can be seen in the Archeological Museum in Split.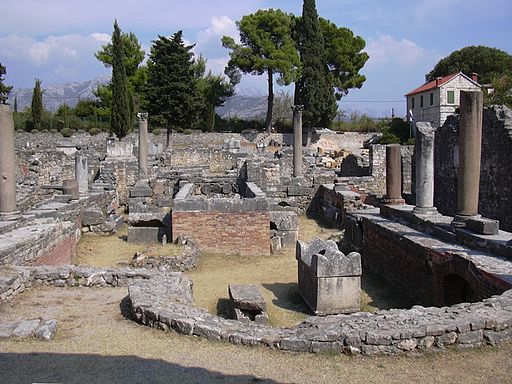 In Salona, you can admire the remains of the 2nd-century amphitheater, a home to the famous Roman gladiator fights, which despite its small size had the capacity of up to 18,000 spectators. During Diocletian's persecutions of Christians in the 4th century, the amphitheater was used as a site of executions. The amphitheater was severely damaged by the Venetians during the wars against the Turks, back in 17th century. You will also find the ruins of the Great Thermae, one of the many thermal baths built in Salona in the 3rd century. Thermae were large imperial facilities for bathing and an important part of Roman urban life. It had a rectangular shape and consisted of pool, hot baths, sauna, dressing rooms, exercise and massage rooms. In the area there are two main aqueducts, one was built for the city of Salona in the 1st century and the other one for the Diocletian Palace three centuries later from the same source which was the Jadro spring.
There are also remains of a cemetery basilica from the 4th century and ruins of a three-nave cathedral with octagonal baptistery.