Plitvice Lakes National Park
Plitvice Lakes offers you cascading water like you've never seen it before, so bring some extra film or memory cards for your camera. The park circles a chain of lakes linked by waterfalls and underground tunnels that disappear and reemerge in dramatic fashion amid lush foliage and unusually tame and photogenic wildlife. Boardwalks and hiking trails allow visitors to traverse the park with ease.
Plitvice Lakes National Park is one of eight Croatian National Parks. It is the most popular National Park in Croatia and it is on the list of UNESCO World Heritage Sites.
The park is famous for its chain of lakes arranged in cascades with 16 lakes divided into two groups, upper and lower lakes divided by a long lake Kozjak. The length of connected lakes is over eight kilometers and the park covers an area of almost 300 square kilometers. The water exiting from the last lower lake forms the Korana river. Lakes are connected by amazing waterfalls and cascades. The biggest waterfall called "Veliki slap" is 70 m tall. During the centuries the water has flown over the natural limestone, creating these wonderful bigger and smaller lakes by the process of tufa development. The lakes are separated by the natural dams and travertine barriers and over some barriers, you can walk the wooden paths between the lakes and admire this beauty of nature.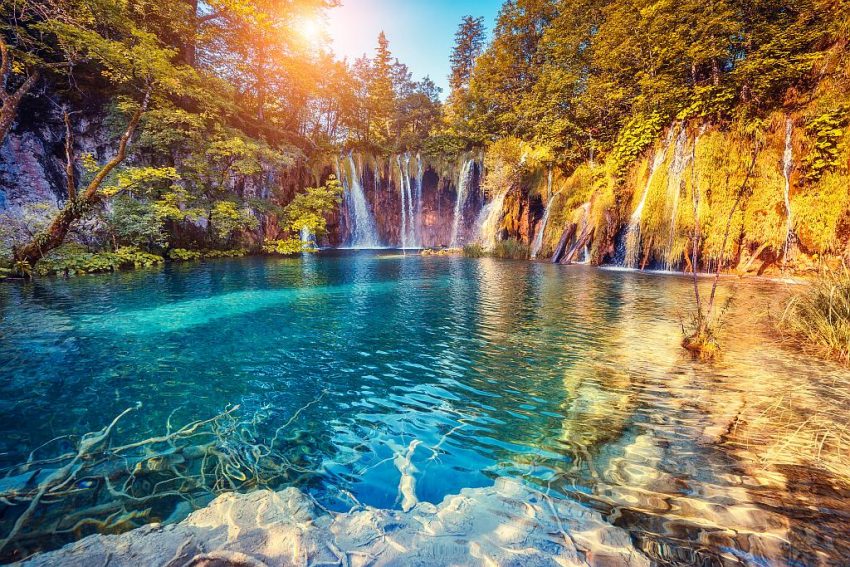 The particularity of these breathtaking lakes is that they change colors repeatedly during the day and it depends on the quantity of organism and minerals contained in them and the position of the sun. The colors go from turquoise, blue, light green and sometimes even grey. Its trademark is the brown bear and Plitvice Lakes are home to many animal species and many unique protected plant species.
Plitvice National Park is a magical pristine world of woodland, lakes, waterfalls and caverns. It is a must-see if you are planning a trip to Croatia.